News & Events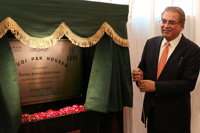 Saudi Pak Real Estate Limited Launched its boutique housing project in Lahore. The project was inaugurated by Mr. Kamal Uddin Khan Chairman Saudi Pak Real Estate Limited and Chief Executive Saudi Pak Industrial and Agricultural Investment Company Limited.
more
Sales Process / Installment Plan

Select the house from available houses.
Submission of booking form along with down payment equal to 15% of the value of the house.
Making payments as per installment plan.
Execution of agreement to sell with buyer within one month of booking.
Handing over of possession after full payment.
Execution of Sale deed in favour of customer.
Installment Plan

Back